Projects
Integrated motion measurement systems have their technical origin in integrated navigation systems. The latter combine e.g. inertial sensors and radio navigation receivers to allow a high-quality motion detection of navigating vehicles. However, they use, as a basic requirement, the assumption that the vehicle is a rigid and nearly punctiform single body.
On the other hand, the performance of the components of modern integrated navigation systems allows waiving the requirement of a single rigid vehicle and extending the motion detection to additional mechanical degrees of freedom. Thus, the scope of such integrated systems can be widened to flexible structures of large aircraft, space stations, mobile robots, and the like. In this case, the motion detection for structure control and structural health monitoring rather than for navigation is paramount.
The design of such integrated motion measurement systems requires distributing sensors of different kind over the structure. In addition, a specific kinematical model of the structure has to be established in order to represent interesting deformations and joint positions. The model is used for the description of the moving structure and the physical meaning of the sensor signals within a data filter being depicted below. Here, x is the interesting motion state, f a function describing the structural motion, h a function describing measurement signals, und u symbolizes the motion excitation.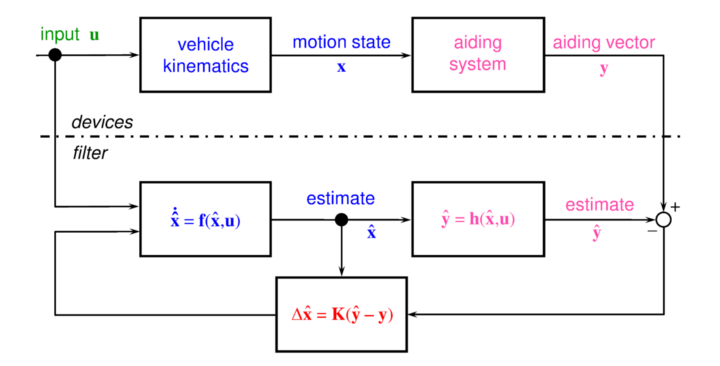 Contact
Chair of Flight Measuring Technology
Pfaffenwaldring 31, D-70569 Stuttgart